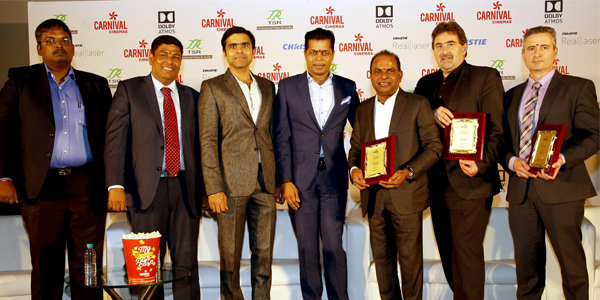 26 February 2020, Mumbai – One of the leading and fastest-growing national multiplex chain Carnival Cinemas, led by Dr Shrikant Bhasi, has chosen Christie's RGB pure laser cinema projectors featuring RealLaser illumination technology as its next-generation projection systems to power theatre screens across the country. The projectors will be installed and maintained by TSR Films Private Limited (TSR Films), Christie's pre-eminent integration partner of its family of RGB pure laser cinema projectors in India.
Christie's RealLaser RGB pure laser projectors comply with DCI standards, and deliver more than 95 per cent of Rec. 2020 spec without filtering or colour correction. The rich, deep and intense colours and contrast create astounding visuals in 2K and 4K resolution for audiences to enjoy, while delivering significant operational efficiencies to cinema owners. Since their official launch, exhibitors around the world have embraced Christie's RGB pure laser cinema projectors as the best replacement for lamp-based projection systems and new installations. Major cinema chains in Australia, China, India, Indonesia, Japan, Malaysia, Philippines, South Korea, Taiwan and Thailand have deployed these systems in their auditoriums.
Enter a new world of sound with Dolby Atmos. A leap forward from surround sound, it transports you into the story with moving audio that fills the cinema and flows all around you to deliver the premier sound of entertainment. You'll feel like you're inside the action as the sounds of people, places, things, and music come alive with breathtaking realism and move throughout the space. Immersive and emotive, Dolby Atmos is sound you can feel—sound that creates a powerfully moving entertainment experience.