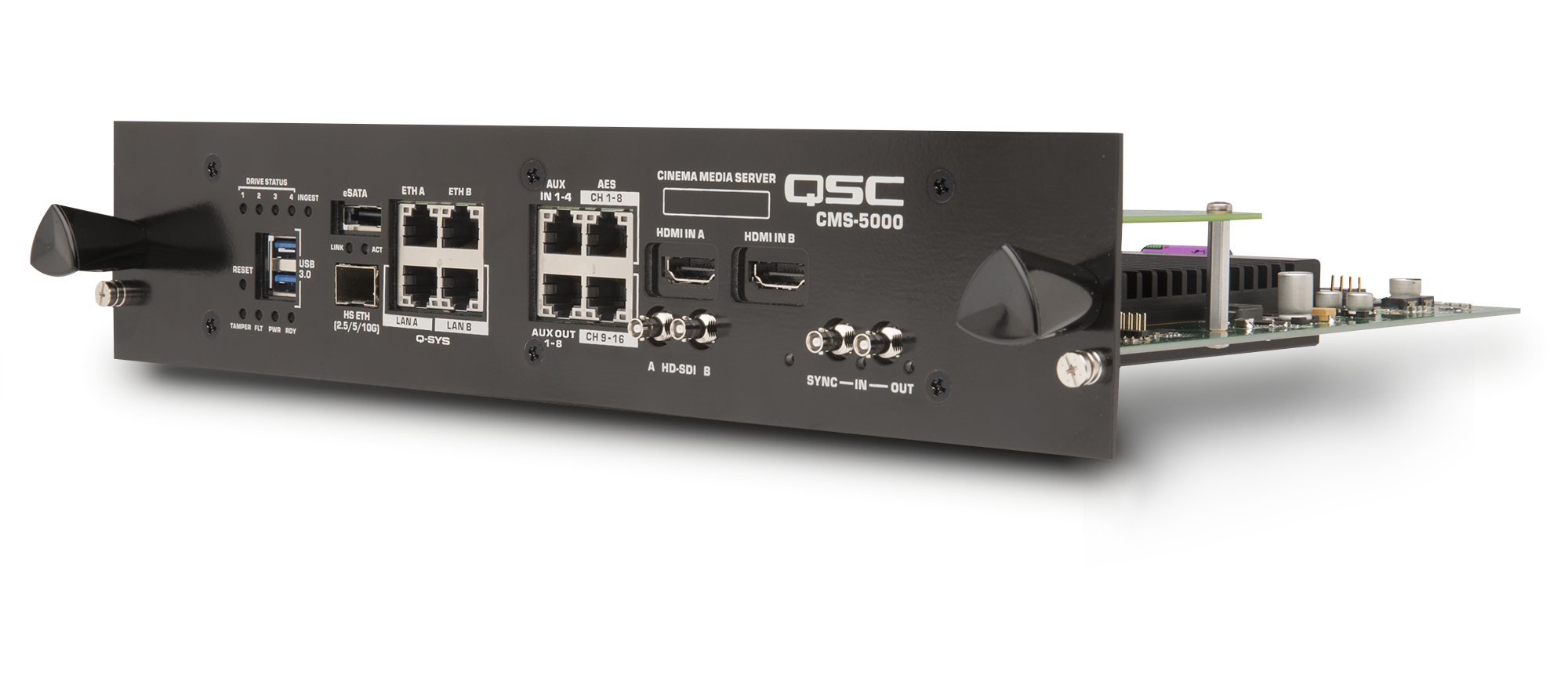 QSC, Costa Mesa, CA (April 20, 2018) – QSC, a leading global manufacturer, expands its
comprehensive catalog of cinema solutions by introducing the next-generation cinema media server, the innovative CMS-5000. The CMS-5000 combines the functions of a full-featured media server while bringing new capabilities to the category including exceptionally fast DCP ingest and seamless integration with Q-SYS™, an integrated sound, picture, and control platform for the networked digital cinema complex.
The CMS-5000 features include two terabytes of reliable onboard solid-state storage, dual HDMI 2.0 ports for alternate content, and a 10Gb Ethernet port for exceptionally fast DCP ingest of content and live streaming ¬– up to 10 times faster than other servers. Operating at typical ingest speeds of 80 MB per second, the 10Gb Ethernet port allows full-length motion picture DCP ingest in the time it takes to play a trailer. Management options include powerful browser based management directly from the CMS-5000 or further customized via Q-SYS to give users full control of content, playback, scheduling and configuration from a smartphone, tablet or computer, maximizing flexibility and convenience.
"QSC has expanded far beyond its roots as a leading power amplifier to become a complete digital cinema systems and solutions provider," says Barry Ferrell, senior vice president and chief strategy officer, QSC. "We expanded our portfolio to include cinema processors and loudspeakers that have become industry standards. We then focused on bringing the power of our widely adopted Q-SYS Platform to the cinema market, providing unmatched power and flexibility to cost-effectively monitor, manage and control the digital cinema ecosystem. Adding the CMS-5000 to our portfolio expands the Q-SYS- enabled cinema solution to include the next generation of digital cinema content delivery. Our SystemSynergy™ approach and complete hardware offering, combined with the Q-SYS software-based sound, picture and control platform enables QSC and our partners to offer cost, operational andperformance benefits to global theatre operators that were never before possible."
The CMS-5000 is capable of JPEG 2000 DCI content playback of 4K 2D up to 60 frames per second, and 4K 3D up to 30 frames per second and supports several immersive audio formats.
As part of the Q-SYS ecosystem, the CMS-5000 appears in Q-SYS Designer Software as a Q-SYS component, providing full system interconnection, comprehensive management, audio channel routing, status monitoring, and control of nearly any device in the cinema complex.
The CMS-5000 sets a new standard for cinema media server performance, functionality and ease of use with availability expected fall of 2018.