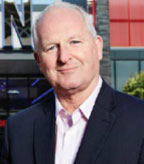 (This interview was published in TheatreWorld June-August 2016 issue)
ODEON and UCI Cinemas Group is a leading pan European cinema operator and a box office market leader in the UK & Ireland, Spain and Italy. The group has a strong brand presence in Germany, Austria and Portugal.
The group believes in driving up customer frequency through increased marketing and data insight, expanding content offer, estate improvements, and working closely with partners across the global industry.
In February 2014, Paul Donovan was appointed as Chief Executive Officer of ODEON & UCI Cinemas Group. After taking charge, Mr Donovan has boosted the growth trajectory of the business with his clear thinking and focussed vision. Under his able leadership, the group launched new state-of-the-art cinemas in 2015 in Milton Keynes, England (11 screens); Edinburgh, Scotland (7 screens); Charlestown Dublin (9 screens) and Bolzano, Italy (6 screens) in addition to acquiring a cinema in Marcianise, Italy (11 screens).
Mr Donovan's earlier career was spent in the fast moving consumer goods industry before transferring to the technology sector where he worked for Apple and BT Cable and Wireless. He joined Vodafone in 1999, and from 2004 was a member of Vodafone's Executive Committee with responsibility for the Group's operations in its subsidiaries in Eastern Europe, Middle East and Asia Pacific, adding Africa, the US, India and China in 2006. He is a former director and Chief Executive Officer of Eircom, Ireland's leading telecommunications company, from 2009 to 2012.
Donovan holds a Bachelor of Arts in Scandinavian Studies from University College London and a Master's Degree in Business Administration from the University of Bradford.
In an exclusive interview to TheatreWorld, Paul Donovan shares his vast experiences and the company's vision. Here are some excerpts from the interview:
From fast moving consumer goods to technology to cinema exhibition, how did these transitions happen in your career, especially considering each industry is so different from theother?
I have always been a curious person – interested in new products, new technologies new industries and new places. I am very fortunate that I have been able to experience so much in my career. I have always been really interested in what drives customer demand and customer satisfaction, and what skills are necessary to thrive in a particular company, so it's really not been so difficult to move between sectors.
In the context of cinema, I think coming from outside the industry has been a specific advantage. I remember doing the keynote speech at CineEurope in 2014 – challenging the established thinking (at that time) that it's the slate which determines our success, making the case for customer focus, for investment in data and analytics, and proposing closer partnerships with distribution to maximize attendance. Half the feedback I got was – "spot on – we need thinking like that", the other half was "what does he know – he knows nothing about cinema". There are so many things that exhibition can learn from elsewhere – and I hope that external perspectives from me and my team is starting to set us apart.
Tell us about ODEON & UCI Cinemas Group.
ODEON and UCI Cinemas group is an international business, operating just over 240 cinemas in seven countries in Europe, using the ODEON, UCI and Cinesa brands. We are owned by Terra Firma Capital partners, a private equity company. The company is currently undergoing a process of transformation, with our goal of creating a truly guest focused and people-driven hospitality business. We're making good progress in driving much improved business performance, evidenced by strong financial and market share performance over the past 18 months.
From the first ODEON started in 1930 to the latest one, how has the cinema chain evolved with the dynamic cinema industry?
The first ODEON cinemas opened rapidly all over the UK in the 1930's, including the iconic cinema in Leicester Square, and our most recent addition in February 2016 is in Orpington in Kent. In our business, our latest site always tends to reflect the best of our offers and this is definitely the case – with a branded PLF and first-class retail experience. We've always been an industry leader, whether with IMAX, leading the change to digital from analogue, or pioneering coffee shops in the UK with Costa.
At a time when multiplexes are booming globally, what makes Odeon and UCI different from other cinemas?
The first thing to say is that I have enormous respect for many of my fellow exhibitors and their management teams. As I travel theworld, I am always curious to see what innovations are in train – and there are many. It's very important to recognize that cinema-going culture and habits vary significantly by country and even by region within a country. So to be competitive you need to be very close to what your guests really want from their experience. We are believers in segmentation and strategic marketing to determine needs and to shape our programmes, and to use that insight to provide a first-class cinema experience. We can all buy the same seats and the same projectors, so we pay very special attention to our people – making sure we hire and reward those people who deliver a great guest experience. We measure what we call Net Promoter Score every day in every cinema – and I'm not sure many others do that.
How many cinemas does ODEON & UCI Cinemas Group operate world over? How many of them are multiplexes?
We operate 242 cinemas, the vast majority of which are multiplexes, serving over 90 million guests a year. Our cinemas are located to be really close to the customer – 120 million people live within 20 minutes of one of our sites. Recently, we announced a further 20 sites to be added to our estate, including landmark sites in London, Berlin and Milan which will include the extension of the phenomenally successful in-cinema dining concept "The Lounge" which we have run in London for a number of years now.
Tell us more about the business strategies that have propelled the growth of ODEON
It's easy to develop a strategy – you can find plenty of consultants who will develop one for you – but the key is in how you execute it. Our transformation is based on operating the business internationally. We have one core strategy which is then tailored and optimized for local market and competitive conditions. We have a small number of experts who work closely with our operating businesses to share best practice and to pilot concepts which we then roll out across the portfolio. There are four pillars to what we do. The first is Commercial Excellence, which is all about becoming a truly customer focused and marketing oriented embracing data and analytics to drive guest frequency. The second is about maximising the opportunities in Retail to drive revenues by selling more products to more people most of the time. The third is about Operational Transformation, which isabout being more efficient, but alsoreshaping everything we do around delivering a better guest experience. And the final element is all ab ut developing a High Performance Culture – one where we focus on alignment and communication across the organization. If everyone knows what they are supposed to do to support the strategy it makes execution and change so much easier – and a more satisfying place to work. We believe that if 100% of our people can have a positive influence on the guest experience we will be doing the right thing for most of the time. All of this is underpinned by a commitment to make the business even more digital than it is today, enabling us to build better relationships with our guest through all our channels.
What are the recent innovations at ODEON & UCI Cinemas Group?
There are many! One recent innovation in the UK was the decision to remove booking fees from online sales. We asked ourselves: "Why, when we want customers to buy in advance, would we actually charge customers more for saving us money?" We found that up to 30% of customers booking online would drop out of their web purchase when they came up against the booking fee. So we did what any customer focussed business would do – we took it away. The result? A dramatic increase in online sales. When Star Wars opened in the UK last December, we already had over 750,000 tickets sold.
Any expansion plans in other parts of the world?
We're focussed on delivering our strategy and transformation in our existing sites – as well as opening more than 20 fantastic new sites in the next 4 years across our businesses in Europe.
Tell us more about your latest ventures?
It's no secret that there's a strong pioneering and innovative spirit in our teams at the moment as we look for new services, ideas and technologies that will help us give guests a fantastic experience. We've even opened two Innovation Labs, in London and Barcelona, so we can
work with the best innovators and creatives in Europe. But that's all I'm going to say – by their nature these things have to remain confidential while we're working on them!
F&B seems to be one of the major attractions of ODEON (especially popcorn and drinks). How important, in your opinion, is F&B to cinema experience. Has its importance changed over a period of time? Being one of the oldest cinemas in Europe, you may be able to give us a better perspective.
We know that guests see food and beverage as an integral part of the cinema experience, always have and always will. The key developments we are seeing is a broadening of the ranges we sell – frozen yogurt as well as ice cream, gourmet hot dogs with value added toppings, more upmarket wines, specialist pizzas and gourmet popcorn. Customers are not always asking for bigger sizes, but better quality in what they buy. I think it's fair to say that there is opportunity for growth in F&B – we and other exhibitors are not yet world class food retailers – but I am inspired by the degree of experimentation I see in the sector. We pioneered The Lounge concept in London – bringing luxury in-cinema dining to the market. We recently announced the expansion to three more sites – in London, Berlin and Milan over the next couple of years. In addition, we are continuing to expand our Costa Coffee outlets – now more than 50 – as a proven vehicle to drive increased spend per head.
How would you sum up the secret of ODEON's success?
The secret of our success? That's a tough question, but I would say that we have developed and tested a successful strategy with people at its heart – guests and colleagues – and we are driving it hard. The growth in our core KPI's supports this view.
How would you compare the cinema exhibition industry in the UK and the rest of Europe?
There are marked differences between the UK and the rest of Europe on two fronts. The first is that the UK is by some way the most concentrated market, with roughly three quarters of the box office shared by ODEON, Vue and Cineworld. This means that there is lot of innovation going on. The second difference is in capital deployment. There are more new sites being built and more being refurbished in the UK than other mature markets such as Germany or Italy. This market is still underscreened – so the result should be a growth in overall attendance.
How is the cinema experience at ODEON different from other cinemas?
We think we offer the warmest welcome and the best hospitality – and the best test of that is to come and experience it for yourself!
What is the group's vision for 2016?
Our vision is "To provide inspiring entertainment experiences for every guest". If we hold true to that in all we do, our business will have a bright future in what is a highl competitive market.