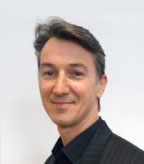 (This interview was published in TheatreWorld May-June 2014 issue)
Volfoni, the renowned 3D technology provider, maintains control over its entire manufacturing chain, from R&D to mass production, Volfoni is one of the few companies in the world offering a wide variety of 3D technologies for Cinema. TheatreWorld (TW) speaks to Mr. Alain Chamaillard who is in-charge of EMEA, CIS and Russian markets about its market, technology and future of the company in 3D solutions.

TW – Tell us about the Volfoni 3D solutions to cinemas?
AC – Volfoni's 3D solutions are aimed at every type of cinema. We offer passive solutions with our SmartCrystal products as well as active solutions with our EDGE glasses. All our products cater to the highest image quality to deliver best 3D experience to the audience. In addition we seek to also offer innovative business models for those who prefer owning over renting or pay license fees for 3D equipment for example.
TW – What is the current count of Volfoni 3D solutions across the world?
AC – By the end of 2013 we counted more than 1800 theaters equipped with our solutions. And that number has kept growing ever since.
TW – How potential do you see the EMEA, CIS, Russia vis-à-vis the global market for digital 3D cinema?
AC – Today we see strong growth in Middle East, CIS and Russia with lots of new builds. Volfoni's brand is well recognized in that region and stands for quality installations. For Europe, we see a more mature market. We believe that there are however major cinema networks that will want to reduce their cost of ownership by turning to a Volfoni System they can own rather than renting other's 3D equipment. So there is also a good potential there.
TW – Tell us about the SmartCrystal Cinema solution?
AC – The SmartCrystal Cinema line of products is dedicated to the light efficiency and 3D comfort. Our aim is to provide moviegoers the best 3D experience possible. In 2012, we crafted one of the best LCD polarizer on the market: The SmartCrystal™ Cinema Vertical which is powered by our own innovative Surface Switching Technology.
Both SmartCrystal Cinema versions Vertical and Horizontal are perfectly designed for smaller 3D screens.
For larger screens we have launched the SmartCrystal Diamond with a higher light efficiency allowing even more light on screens.
TW – What is the technical difference between SmartCrystal Cinema Horizontal, SmartCrystal Cinema Vertical and SmartCrystal Diamond?
AC – The SmartCrystal Cinema Horizontal and Vertical are both based on our proprietary Surface Switching Technology. The differences of the design concern the application:
• The Vertical is for standalone and mobile.
• The Horizontal is for compact and booth-less installations.
The SmartCrystal Diamond is powered by our own new and patented Triple Beam Technology. Through an enhanced optical engine it provides a LEF of 28%. It's uniquely compact design makes easy to adapt to different installation situations: standalone, compact and booth-less.
TW – Where is your product manufactured and does it have any warranty?
AC – All our products are entirely design by Volfoni in France; they follow a global assembly process that today is mainly based in Europe.
As a quality 3D specialist we have been leading the industry by being the first to offer 5 years warranty on all our SmartCrystal family.
TW – What was the thought behind getting SmartCrystal to the market?
AC – When Volfoni launched the SmartCrystal Cinema, we were shaking up the industry as the first to offer active and passive solutions. The thought was, as with all our products to provide an ever better 3D experience to the audience and also listen to the needs of the exhibitors asking for high quality passive 3D solutions. This same thought and the same dialogue with exhibitors that lead us to launch the SmartCrystal Diamond. With that innovative 3D system we do additionally improve the economics for the exhibitor and assure a quick return on investment.
TW – Tell us about the Clip-on 3D glasses with regard to its cost, maintenance and logistics?
AC – The Clip-on is the lightest-way to see 3D. It just clips to prescription glasses. It is therefore the ideal accessory that cinemas can offer to their glasses wearing audience. The Clip-On design by Volfoni is particularly stylish and sets it apart from other similar systems as it has no moving parts. There is no maintenance to address and logistics for the point of sale have been optimized by special selling displays. Anyone can ask for a sample to get convinced.
TW – Is there any particular strategy from Volfoni to promote SmartCrystal in EMEA, CIS and Russia region?
AC – In 3D seeing is believing. Therefore we have made a special arrangement to demonstrate our products during CineEurope for our Customers from these regions (suite 131 level 1).
On other strategic plan, please allow us to keep a secret or two. Generally Volfoni stands for innovation in 3D systems, highest image quality and being a trustworthy and reliable business partner. We will continue to be just that.
TW – What would be the approximate investment for SmartCrystal?
AC – Volfoni has always been working with integrators, as such the investment of the exhibitor depends more often on the specific requests he might have along with the 3D System. In any case opting for a Volfoni System has always been worthwhile.
TW – Do you have any new launch at CineEurope or Kino Expo this year?
AC – In the last 3 years we have been introducing a new product almost every 4 to 5 months. I am sure that at these trade shows we will always have something new to show and we will be pleased to present it there.
TW – What are your future plans for developing 3D?
AC – We have a full R&D team dedicated to that question. We believe that we can continue to improve the image quality for 3D films to make the 3D experience just as natural as a 2D experience. Our priorities for this include increasing light efficiency and enhance contrast and color crispness. Additionally we see a lot of 3D demand in professional applications such as Virtual Realty that might cross pollinate the 3D cinema industry in return. As a leading professional 3D system supplier we will benefit from that.
TW – How do you see the future of cinema exhibition in EMEA, CIS and Russia region?
AC – The regions you mention will develop with two different patterns. In Europe, mainly western Europe, we believe big chains and specialist exhibitors will reinvent the cinema experience, as social meeting place as entertainment event and as place in the city. In the Middle East, Africa, Russia and CIS we will see a lot of very modern new build absorbing immediately these trends and maybe they will also spark some of those trends on their own. So we believe it to be a very innovative space in the near future.