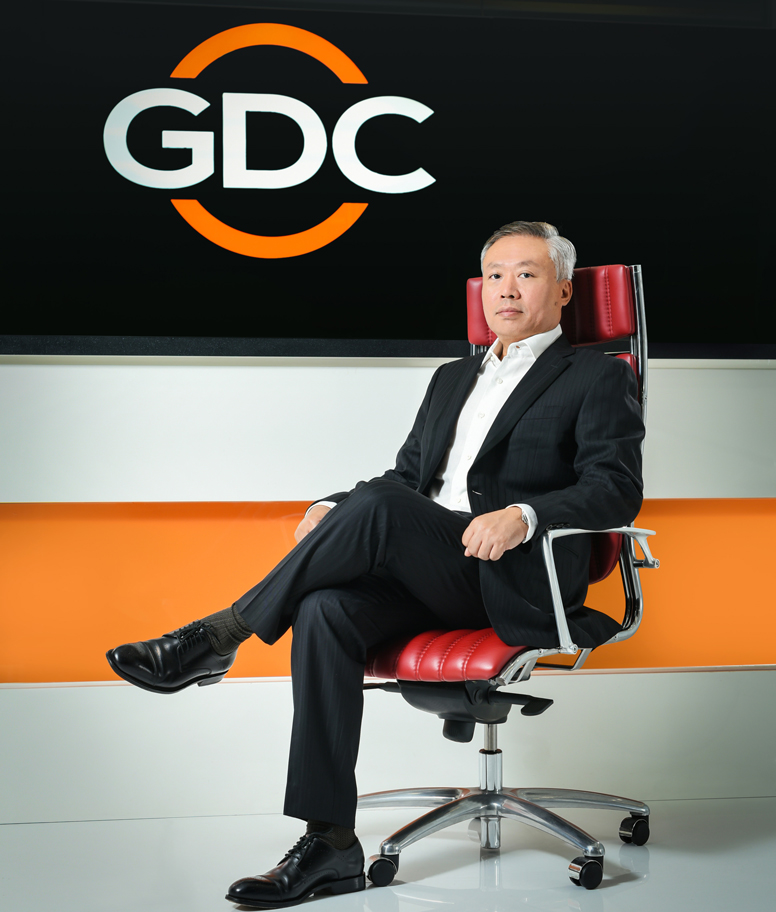 (This interview was published in TheatreWorld December 2017 – Febrauary 2018 issue)
Reshaping the Future of Cinema With his razor-sharp focus on the goals and values of the company, Dr. Man­Nang Chong, the founder, chairman and chief executive officer of GDC Technology, is determined to uphold its culture of innovation.
Dr. Man­Nang Chong is the founder, chairman, and chief executive officer of GDC Technology Limited (GDC). Founded in 1999, GDC is a leading global digital cinema solutions provider with the largest installed base of digital cinema servers and theatre management systems in Asia and the second largest globally. One out of three cinemas in the world uses a GDC media server and/or theatre management system. Headquartered in Hong Kong, GDC has established a global market presence with 13 offices and 29 local service centers around the world. Huayi Brothers, one of the four largest publicly listed media companies in China, is currently the major shareholder of the company.
GDC holds 24 patents globally, including USA and China. The company has received numerous awards throughout the years, such as the "Digital Cinema Report Catalyst Award" in USA for the best new technology in 2016 and 2017 consecutively, and the "Technology Innovator of the Year" award in CineAsia 2016. Over the past 18 years, GDC products have also won many international awards. In August 2017, GDC's theatre management system has been selected and awarded as the "Innovative Technology of the Year" by the largest cinema confab in India -­ Big Cine Expo.
Dr. Chong was an associate professor of the School of Computer Engineering at Nanyang Technological University, Singapore, from 1992 to 2000. In 1996, Dr. Chong led a team to win the "Worldwide Texas Instruments' Digital Signal Processing Solutions Challenge" award. In 1999, Dr. Chong founded Nirvana Digital, a leading digital signal processing company which was subsequently acquired by Acterna.
How would you describe the growth of GDC between 1999 and 2017 in terms of size and brand value?
The growth of GDC, both as a company and a brand, was strongly influenced by the goals we set for ourselves from day one. From starting out with an original concept, we have grown from a 5-man team working in an apartment to a multi-national corporation with
13 offices and 29 service depots that spanned across 4 continents. GDC started by investing and building the first Hollywood approved digital cinemas in China in 2002 when China's boxoffice in early 2000 was smaller than that of Hong Kong.
In our 18-year journey, GDC never stops innovating and dreaming; we produced the first digitally mastered Chinese movie for our digital cinemas in China. We successfully made the same attempt in India and Korea between 2003 and 2004. We built and installed the first fully digitalized cinema multiplexes equipped with TMS ("Theatre Management System") in Singapore in 2004, and duplicated the same in China in 2006. Today, GDC is the largest supplier of media servers and TMS in Asia-Pacific and the second largest in the world. We are also one of the largest providers of digital cinema one-stop solution and service in the world. We achieved this by adhering to four key business principles: continually remaining focused on developing innovative products to exceed our customers' expectation; providing a one-stop solution and service to fulfill customers' need; extending our reach by finding new markets for our current products and services; and most important of all – listening to customers and understanding their needs.
What is GDC's market position in terms of digital cinema servers?
With the largest installed base across key markets such as China, Japan, South Korea, Taiwan, Hong Kong and Singapore, GDC is the market leader in the Asia-Pacific region. On a global level, we are the second largest manufacturer and provider of digital cinema servers and TMS providing reliable, cost-effective products and prompt customer service to 28 of the top 35 exhibition companies in the world.
Can you tell us more about how things have changed since the launch of the innovative immersive sound media server with a built-in DTS:X decoding and cinema processor (the GDC Immersive Sound Solution)?
The award-winning GDC Immersive Sound Solution, which comprises the SX-4000 Standalone IMB with built-in DTS:X decoder and the advanced XSP-1000 cinema processor, was premiered at CinemaCon 2016. Delivering realistic, rich, immersive sound, this total audio solution has become a game-changer for audiences around the globe. By enabling a high-quality audio experience at a price point that allows exhibitors worldwide to affordably install immersive sound in auditoriums of any size, GDC has installed more than 500 DTS:X screens to date, with more than 300 in the pipeline over the next two years. GDC's SX-4000 is the first digital media server or IMB that equipped with an object-based immersive sound decoder with overwhelming support of movies from Hollywood and regional distributors. In two years, more than 100 blockbusters from Hollywood and regional distributors are released to cinemas equipped with SX-4000 media servers. We are also pleased to achieve another world's first in 2016 where a number of cinema multiplexes equipped all their auditoriums with SX-4000 to provide DTS:X immersive audio to the movie-goers.
What do you think are the key factors that have helped GDC solutions succeed so spectacularly in Asia?
There are several factors but the single most important factor is our research and product development capability. We brought several firsts in the cinema technology. In 2001, GDC showcased and installed the world's first media servers with 100% software audio-visual decoder to significantly reduce the cost of media server. We studied and continuously study the workflow of cinema multiplexes as well as the cinema eco-system from mastering to screening of the movies. We continuously find ways to make the workflow more efficient and reliable. Before the arrival of Hollywood "DCI" standard, in 2004, GDC went ahead to offer and subsequently built the world's first completely digitalized cinema multiplex with its TMS. The development of TMS has significantly reduced the need of manpower enabling China to build cinema multiplex at cut-throat speed. More recently, we partnered with Samsung to build the world's first LED cinemas; this is the first time where direct view technology is approved by Hollywood DCI and used in the commercial cinema. We also developed the first media server that has built-in object-based immersive audio decoder such as DTS:X as early as 2015 (two years ahead of our closest competitor), and subsequently built cinema multiplexes in 2016 whereby all the auditoriums were equipped with DTS:X audio. These are just some of the examples of GDC's enormous focus in developing products that matter to the cinema industry. Top global exhibitors choose GDC for devotion to digital innovation and product reliability.
Apart from manufacturing hardware and developing software for digital cinemas, GDC also emphasizes providing value-added services to customers. For example, GDC partnered with China Film Group to run a network operations centre ("NOC") in Beijing to provide 24-hour, real-time remote monitoring services for digital cinema systems in China.
The other factor worth mentioning is GDC's willingness to invest our earnings to grow the cinema business across the four continents. GDC has invested and financed the transformation of cinemas from analogue (35mm film) to digital cinema in various countries. In 2006, the company partnered with China Film Group to transform almost 1,000 screens into digital cinemas. Today, more than half of China's 50,000+ digital cinemas use GDC products. The digitalization project in 2006 became the catalyst that expanded China's movie industry to become the world's second-largest movie market, with box office revenues reaching more than US$8 billion in 2016. Our technology marked the start of the Chinese digital cinema revolution. We provide GDC solutions to top exhibitors in the world. We are No. 1 consistently in Asia, year after year, and No. 2 in the world. GDC products can be found in one out of three cinemas globally.
With a passion for building and designing the most advanced solutions for the digital cinema industry, GDC regularly participates in various tradeshows while showcasing its groundbreaking products and services. One such event where the media and technology merge annually is at the CineAsia – a global gathering of the movie industry's top players, including production studios, technology providers, theatre owners and movie celebrities. GDC shall present another innovative product, namely Cinema Automation 2.0 ("CA2.0") which removes the existing hall-to-hall operation bondage. CA2.0 shall provide an online media server capable of storing and screening more than 1,000 DCP (i.e. DCI standard movies) to each and every auditorium. CA2.0 moves a step closer to complete the automation of the cinema workflow except the need to program the POS for the day-to-day screening of movies. We are excited to change the way the cinema operates thus bringing more savings and revenues to the exhibitors.
The GDC Theatre Management System is Number 1 across India. What can we expect to see next from GDC in India?
India is the world's largest producer of movies for theatrical distribution. More importantly, watching movies in cinema is an important part of India culture. GDC has always been passionate to developing the technologies for cinema that help to minimize the operating expenses and improve the screening quality. This is made possible with highly automated process from the ingest of content to the screening of various movies for the entire cinema multiplex. GDC's TMS and cinema enterprise software have helped to automate the distribution of screen advertisements, keys and cinema operation. At CineAsia, GDC is excited to launch the new generation of cinema automation products referred to as "CA2.0" to completely eliminate the storage constraint of today's digital cinema. With CA2.0, only a centralized server is need for the entire multiplex that can host more than 1,000 movies. These 1,000 movies are available to each and every screen of the entire multiplex without the painstaking process of transferring content from one auditorium to the other. CA2.0 is perfectly suited for Indian cinema industry because of its vast number of movies and movie-goers. The automated programming feature of CA2.0 also attempts to satisfy the movie-goers by meeting the needs of "What to watch", "When to watch" and "Where to watch", hereby referred to as three Ws. You will see GDC spending time and efforts in transforming the cinema to adapt to the new generation of movie-goers who are so adapted to the three Ws.
Of all the products and technologies that GDC has developed, which one would you say has been the biggest game-changer in the world of digital cinema?
That's a fascinating question, and I promise you the answer will just be as fascinating! We recently introduced CA2.0, an integrated centralized storage and playback system designed to manage content storage and playback, show scheduling, power supply and screening quality. This system is a game-changer in that it reduces content ingestion by more than 90% (for a multiplex with more than 10 screens), increases playback reliability more than over 10 times and stores more than over 30 times more content (more than over 1,000 DCP) for each and every auditorium. It's the first-ever solution that is capable of playback of content to more than 10 screens from a centralized server to each and every media server in a multiplex. In addition, CA2.0 offers exhibitors the ability to eliminate the complicated procedure of preparing or editing show playlists (SPLs) through Auto-SPL Generation, which saves time by handling SPLs with machine intelligence. Furthermore, the system intelligently turns the power supply on or off for cinema equipment and manages the screening quality by smart testing and analysis of luminance, chromaticity and sound pressure levels, performing tasks automatically and instantaneously. CA2.0 also revolutionizes the way in which cinemas can operate in the digital age by offering storage for more than 1000 (DCP) movies. Just imagine the tremendous flexibility in terms of programming content. CA2.0 is truly a revolutionary product that has not been seen in the industry. It also removes the biggest headache in the industry to manage broken harddisk drives and RAID rebuilding at each and every auditorium. Our new generation of media server is equipped with cache memory without the need of harddisk drives and it works seamlessly with CA2.0 to ingest, store and plays more than a thousand movies from a central storage server.
GDC was recognized as the "Innovative Technology of the Year" by the largest cinema trade fair in India, Big Cine Expo 2017. How did it feel?
I was deeply honored to receive this award with the GDC team. To be recognized by one's industry peers for working on something as important as the cinema technology of the future is very special to me. Cinema technology has always been my passion but most importantly, the award recognized and re-affirmed the importance of a team effort. While many organizations have the power and resources to influence innovation, it's the individual talents we possess that drive GDC ever higher. It is truly an honor to lead such a great organization of unique individuals who continually innovate and experiment to come up with new ideas and drive innovation for the advancement of the cinema industry.
What new developments can the cinema exhibition industry expect to see from GDC in 2018?
For exhibitors, the continued evolution of digital cinema innovation has resulted in seemingly endless options and technologies. And we don't expect this trend to stop anytime soon or when the market is changing. In fact, GDC will continue to work with the cinema exhibition industry to introduce even more innovations, especially during a time of transformation such as now. However, just because something is new doesn't necessarily mean it's innovative. We are guided by two rules: technology must either increase revenue or decrease cost – otherwise, it's not innovative. Moreover, the mark of true innovation is usefulness. True innovation is born out of necessity and is therefore useful in meeting a real need. The industry can count on GDC to introduce solutions that will meet their real needs as the industry is evolving.
GDC also studies the change of lifestyle of the new generation of movie-goers who grow up with online video and some of these movie-goers never even use TV at all. GDC is developing key technologies to bridge the gap of traditional cinemas and new generation of movie-goers.
As the Founder, Chairman and CEO of GDC, what are your goals and vision for the company?
I often remind myself, and have articulated to staff on multiple occasions, that I'm primarily guided by our mission statement and culture of innovation. I believe in that even more so today. GDC exists to create solutions to best satisfy our customers' needs for the digital delivery of multimedia information to all forms of display technologies while enhancing the multimedia experience, improving multimedia communication and reducing the cost of delivering the best quality multimedia displays for audiences. Ultimately, that's why I'm here and why I can't imagine ever doing any other job. Basically, what we do matters, and it matters now more than it ever has.
The second thing I focus on every day is making our culture and values a part of the company's DNA. I learned many years ago that culture and values are of utmost importance to success. Culture and values provide the foundation upon which everything else is built. They are arguably our most important competitive advantage, and something that has grown to define us. It's one thing to change an industry. It's another to do it in our own distinctive way with innovation, openness, honesty, excellence and intelligent risk-taking.