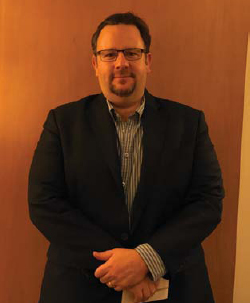 (This interview was published in TheatreWorld March-May 2017 issue)
Unveiling its latest cutting-edge innovations, Barco yet again proved itself as the global leader in digital cinema projection technology. Raghavendra T, Editor-Publisher, TheatreWorld gets you the first glimpse of this showcase event as he meets up with Brian Claypool, VP – Barco Entertainment Strategic Business Development to take more than a sneak peek into the future of cinema projection.
A global technology company that designs and develops networked visualization products for the Entertainment, Enterprise and Healthcare markets, Barco has always been the pioneer of sorts. The market leader in digital cinema projection technology proved its core competence yet again by showcasing its latest innovations at CineAsia 2016. Barco launched seven new laser projectors: five laser phosphor models and two flagship laser highcontrastprojectors. The company also introduced a new version of the Barco Alchemy Integrated Cinema Media Processor (ICMP). With its full portfolio, Barco enables exhibitors to improve their operational efficiency while elevating the audience experience.
Barco showcases Gen-next cinema technology
At the tradeshow, Barco demonstrated its full laser portfolio including its seven new projectors:
high-contrast and high-brightness flagship laser, BLP, CLP, and SLP BLP, CLP, and SLP BLP, CLP, and SLP ICMP (HDMI2.0), Alchemy ICMP (HDMI2.0) and the APX AuroMax Spatial Audio
Processor.
"The importance of China in the conversion of cinema to laser cannot be underestimated. We are proud that together with our long-standing and trusted partner, China Film Group (CFG), we are leading the conversion of the cinema market to laser," comments Wim Buyens, Senior Vice
President of Barco Entertainment. "The combination of cutting-edge Chinese innovations as the ALPD laser light sources and Barco technologies yield truly impressive results."
New Laser Phosphor Projectors Demo
Barco organized live demos of the brand-new BLP and SLP laser phosphor projectors at CineAsia 2016:
• The BLP series (3 models) brings higher brightness levels and 4K resolution to Barco's growing portfolio of laser phosphor projectors
• The SLP series (2 models) provides smaller screens with laser image quality to meet the needs of fastgrowing cinema markets such as China and Asia Pacific.
• With the demo show and presentation of the new 2K/4K BLP and 2K SLP series, Barco introduced a world's first 24,500- lumen 4K laser phosphor projector: the DP4K-23BLP
projector.
In Conversation with Brian Claypool
In 2012, Barco and Auro Technologies made history with the debut of Red Tails from Lucasfilm
Ltd…The first film ever released in immersive sound and Auro 11.1 by Barco was the technology chosen to bring this new experience to cinema.
Since then, Auro 11.1 by Barco has witnessed substantial growth with over 650 screens committed or installed all around the globe, including more than 45 leading post production facilities worldwide. Over 175 films have now been mixed and released in Auro 11.1, including such blockbusters like "Passengers", "Sing" and "The Great Wall", making the possibility of experiencing Auro 11.1 by Barco easier than ever. Other releases in Auro 11.1 by Barco include "50 Shades Darker", "The Boss Baby", "The Fate of The Furious" and "The Mummy. With the evolution of a standardized approach to immersive sound, Barco introduced AuroMax at Cinemacon 2015 – a system that incorporates the best characteristics
of "object-based" technology into the most realistic immersive experience offered by the Auro
format. Barco is fully invested achieving standards for the motion picture industry in the creation and delivery of immersive sound. It participates in the SMPTE cinema standards committee to achieve interoperability between rendering technologies. While the standards process is progressing, Barco hopes the standards are expected to be released in 2017.
Brian Claypool, VP of Strategic Business Development for Barco's Entertainment division, puts it all in perspective:
The 'Sound' Venture!
"We first got into immersive sound about six years ago with Red Tails, our first film in immersive sound. The reason we got into sound was because a survey was conducted by a lot of the exhibition partners. When asked "what can be improved", 'sound' emerged as one of the major
responses in the survey. With Auro we found a way to improve the experience with three layers of sound.
Audio is a nice complement to create the whole package. If we can keep the economics of cinema business healthy, then our business is healthy!"
Making a Difference with AuroMax
"When we came up with Auro 11.1, object-based audio was being evaluated. We looked at the technology very closely before we deployed Auro 11.1 and realised there are some advantages as well as drawbacks to it. It is not compatible with existing standards. You really have to reinvent the way movies are mixed, the way content is distributed and workflow functions. We decided channel- based approach using the existing 5.1 channels to encode into our immersive layer was the first logical approach. Once object based technologies became more mainstream, we combined this capability of supporting audio objects into our system and hence AuroMax was invented.
AuroMax is a rendering technology that takes either our own proprietary or a standards base deliverable from immersive sound DCPs and plays it back in theatres. For our existing customers that have Auro 11.1, we have a programme that allows them to upgrade to AuroMax at a very attractive price rate. Our goal with AuroMax is to fit the economics of cinemas. We want to produce very high quality sound at an advantageous investment cost. Part of the quality aspects comes from the rendering technology, but it also comes from the way speakers are positioned and calibrated in the auditorium. As our tagline goes: "we offer the most natural immersive sound possible!"
Strategies in a Competitive Market
"Choice is always a good thing for the exhibitors. Competition does two things; it keeps costs rational and drives innovation. In the market, it ultimately comes down to high quality of rendering and processing being made cost effective for exhibitors."
The Asian Market
"We have about 20 – 25 installs of Auro 11.1 in India. In the course of next year, we will upgrade more sites around the world from Auro 11.1 to AuroMax.
Auro 11.1 to AuroMax
"We change the way the output of the audio processor is wired to the
input of the amplifier. You don't have to add more amplifiers or speakers. It's only the rewiring of the system that has to happen to go from Auro 11.1 to AuroMax!"