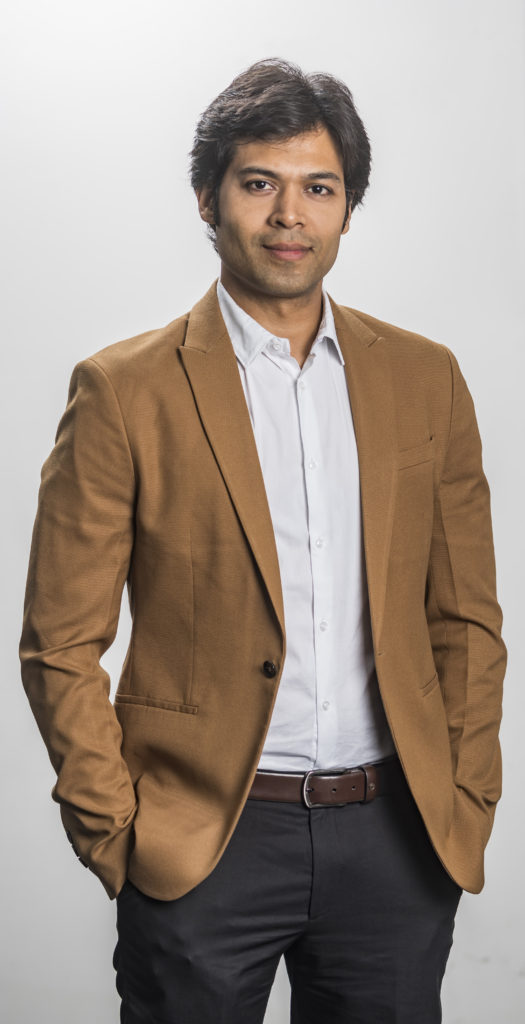 Crossing a 100-screen mark in the cinema exhibition market, Miraj Cinemas has come a long way to celebrate this moment. Taking us right from the best efforts laid by the team and mega plans set for the days to come ahead; to his 15 years of experience in the cinema exhibition industry, Amit Sharma, Managing Director, Miraj Cinemas, has been playing a vital role in the growth of the brand and now gets candid with TheatreWorld to get in-depth with the same. Heading the entertainment vertical, including multiplex expansion, movie production and distributions, his deep understanding of business nuances has led Miraj Cinemas to achieve great heights within a very short span of time.
Tell us something about yourself before having forayed into Miraj?
Cinemax has been a learning platform for me as I have covered the journey from bottom to the top in this organisation; I entered this industry as a duty manager and reached to head the operational strategy. Here, I got country wide exposure to learn consumer behaviour at large and understood the consumption pattern of movie at a price band and F&B off-take etc. So in a nutshell, I have learnt the micro economics of Cinema Business in Cinemax.

How did your journey with Miraj Cinemas begin?
I was always keen to do something new on my own. So, I met Mr Paliwal to discuss my plan for launching multiplex chain. Thankfully, he appreciated my plan and relied on my abilities. And thus, the journey of Miraj Cinemas took a wing.

How does it feel to have achieved the milestone of 100 screens?
It has always been a happy moment for all of us at Miraj family. With our dedicated team and their efforts Miraj Cinemas is now the fifth largest multiplex-chain in the country. We see this achievement as a launching pad in the cinema world though I believe crossing 100 screen mark is the journey that's just begun for Miraj Cinemas.

Having over 15 years of experience in the cinema exhibition industry, how do you analyse your growth?
In person, I have witnessed the cinema industry moving from single-screen theatres to multiplex and now to megaplexes in India. Though here we do not have a formal education system for working in movie exhibition industry, over the period I have learnt standing past and facing multiple challenges in different areas of the business. In a multiplex business, there are crucial areas such as movie programming; F&B which are very important for one to understand as all these concepts are different from each other. This right decision on choosing property (real estate), hospitality services etc., also play very important roles and the decision maker should have good knowledge and understanding in the multiplex business.

For the first 8 years, my career dealt with the learning of micro market of cinema and the next 8 years on-towards evaluating the macro market. Having said that I believe growth is directly proportionate to the learning one dwells into. As an individual, I'm trying to learn something new every day and as a leader, I try to share this learning with my team on a regular basis.

Miraj Cinemas has constantly been spreading its venture in the Tier 2 and Tier 3 cities on prime focus. Tell us something about it.
India as a country, is so big, vast and different in consumption behaviour and that is not possible to measure the whole country with the same tape, for instance, Vijayawada, down-south and Jodhpur up-north have similar kind of population. However, the total number of cinema goers in Vijayawada are more than 10 million in a year, while Jodhpur struggles to get 1 million admits a year in cinema.

In my personal view there is no such concept of tier I, tier II or III cities, at least when it comes to movie consumption behaviour. In fact, for me it is either urban or rural consumer, either smart phone or non-smart phone consumers. So, the difference is that today anybody who is a smart phone user, irrespective of the cities they come from, his or her aspiration is global. Cinema as a whole is a very micro evaluated business, your target audience is only 5 kms of cinema radius, so if any market has a potential consumer in 5 kms of radius irrespective of the size of the city, it eventually becomes a good market to explore.

What has been the impetus behind establishing the largest screen in the Delhi region?
We at Miraj Cinemas always wanted to get into the bigger screen format and here in Gurugram we got this opportunity with MGF. This provided us an opportunity to launch our premium large screen format- 'Miraj Maximum'. Anybody, who is a movie buff and wants to enjoy movie at its best, larger than life experience movie in a multiplex will always appreciate our greatest viewing experience with a world class sound and visual technology with utmost comfort in its opulent ambience.

The combination of large screen size, sound quality, luxury, gourmet food has always attracted audience in the Delhi region. The property is at the CXO hub in Gurugram and is filled with well-travelled people & refined taste, demanding yet conscious about the 'value for money' quotient.

llustrate on the ornate architecture and the luxurious designing of the Miraj Maximum cinema.
Some of the glorious feature of this property includes ultra-luxurious lobby with absolutely crisp rose gold metal inlaid Italian marbles splashed on the ornate walls is the overarching theme. The entrance of the plex is decorated with two exquisite guided chandeliers with crystals; warm wooden ceiling and the earth toned Italian marbles. The flooring is garnished with a pattern of two toned marble breaking the monotony of regular floors. With a digital video wall and state-of-the-art concessions with a self-ordering kiosk are some other attractive features. The waiting areas have a very unique play around the mirror concept creeping from the walls to the ceiling giving a break from the art deco wall decals of rose gold metal transiting into amber mirror decals.

The entrance side passages of the cinema are beautifully spaced with simple moulded cornices forming the frames played with classics, abstracts, digital screen- all blended to give a fantastic cinematic ambience. The royal riches also splashed in the washrooms with the butler-on-call service and other amenities beautifully blended in. I can safely say, it is a property which once viewed by a patron, would become a patron for a lifetime.
Give us a brief on the Premium Large Format (PLF).

The components which typically contribute to such an experience is the large screen size with Dolby Atmos sound, new aged laser projectors, luxurious interiors, delectable gourmet food with world class service. In our understanding, it's a space that gives you larger than life movie watching experience!

Tell us something on how Miraj has helped promote regional content at its screens?
We always looked at becoming a national multiplex chain and that's why we could concentrate on a pan-India basis, which means that we intend to diversify in every region of the country. Another focus area was to screen more number of regional films everywhere in our cinemas. Miraj has 55% of its revenue coming from Bollywood and 45% coming from English and regional that stands testimony to our efforts in balancing content. Over a period of the next two to three years, the divide will narrow further. We are concentrating on looking into Punjab, Telangana, Tamil Nadu, Karnataka and Kerala more.

Has the frequency of the audience increased or decreased over the years? Elaborate.
I believe that the number of people coming to watch films in a particular cinema or the same store number is stagnant and will remain so from here until the next ten years. However, there would be certain number of good years for the industry where you have more audience, there will be certain number of bad years, when there will be a dip but at the same time when you look at it on an average, I'll say it's more of a constant number and not too many frequent fluctuations.

What are the expansion plans for Miraj Cinemas?
We currently operate 110 screen, with 40 multiplexes across 14 states, we have already signed up for 250 screens more to come across the country. We intend to add 50-75 screens year on year from here on, we are exploring new different territories especially the untapped ones. To name a few, Kerala, Tamil Nadu and Bihar, Odisha, North east etc. It took us five years to cross 100 screens but the next 100 will be added at the lightning speed of 15 months.